German supper, May 14, 5-7 pm, Drake KC Hall. FBLA fundraiser for nationals.
Two of our graduates will be featured on KHRT 1320 AM and KHEART 106.9 FM. Here is their interview schedule: Jamie Lemer- Wednesday, May 3 at 3:15pm on 1320 AM Sunday, May 28 at 7:35am on 106.9 FM Taryn Sieg- Friday, May 12 at 2:35pm on 106.9 FM Friday, May 19 at 12:45pm on 1320 AM 🖤🤍🖤🤍


Drake Public School Election Tuesday, June 13, 2023 11-7pm Drake Public School Unofficial Ballot

Anamoose Public School Election Tuesday, June 13, 2023 10:30-7 pm Anamoose Public School Unofficial Ballot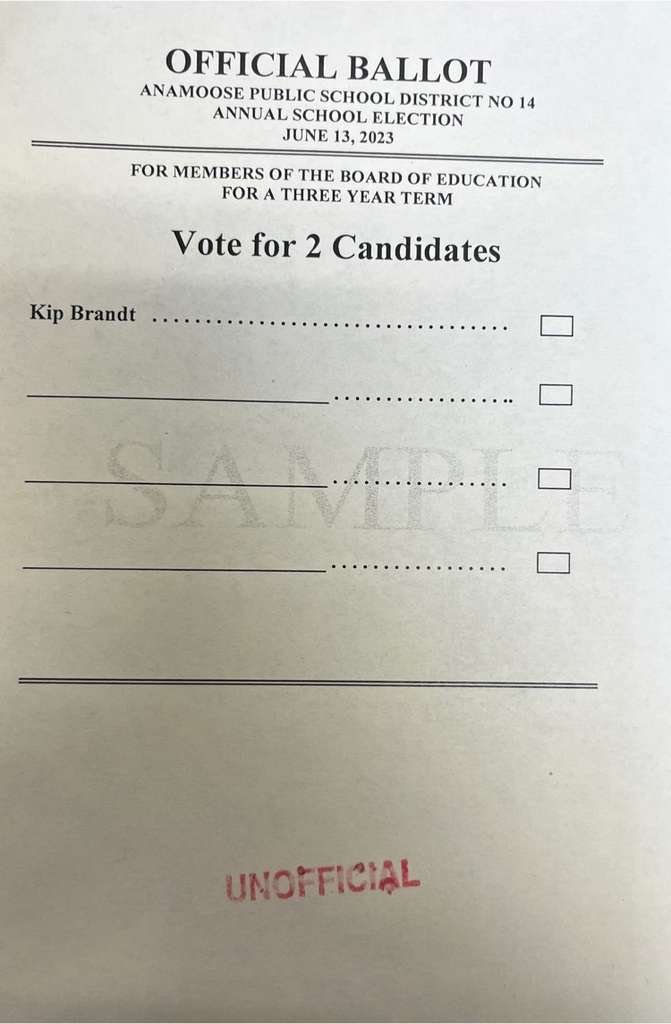 Here are the market day vendors.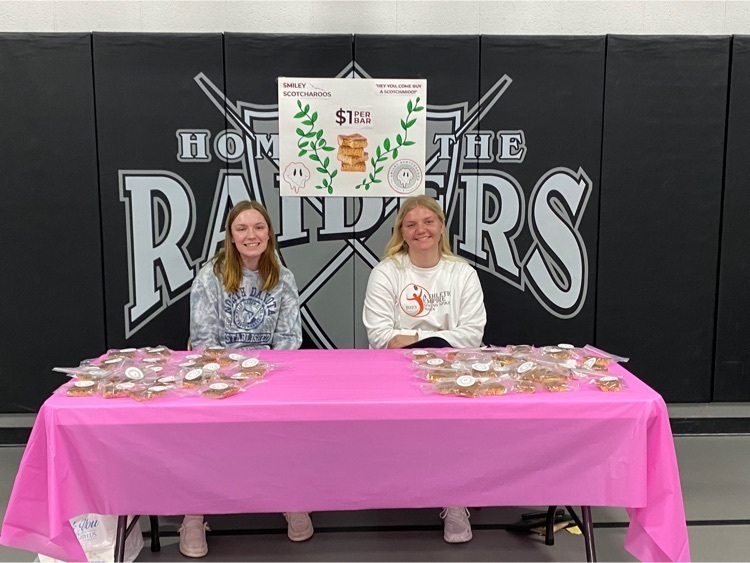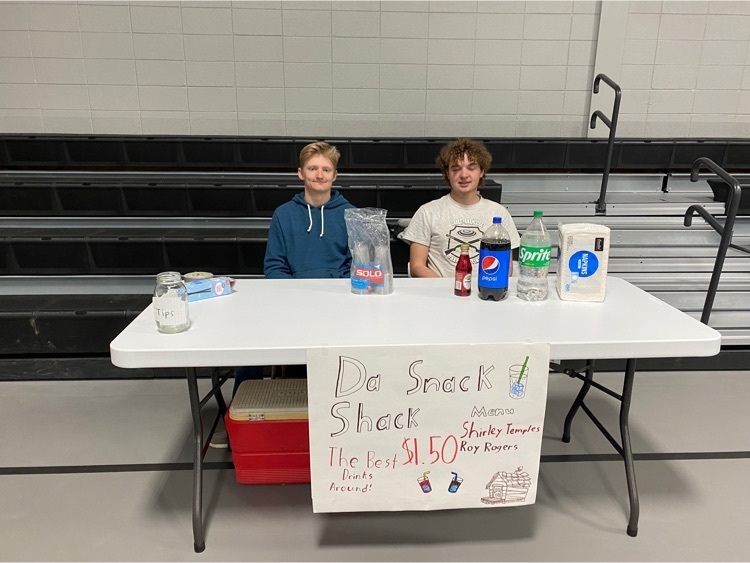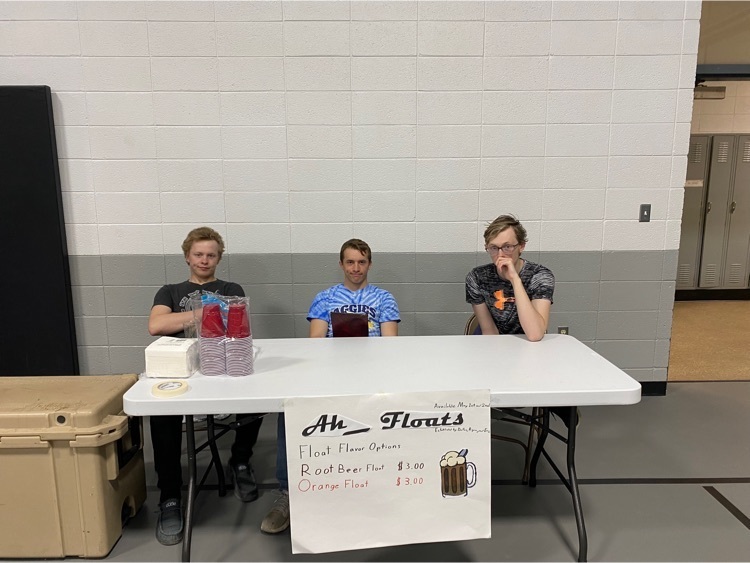 Drake-Anamoose May Menu/Events


Congratulations to Kaidence Hase and Zack Volson for taking 1st place in Minot State University's College of Business Academic Showcase where they presented their FBLA American Enterprises Project. They were awarded $600 to go toward their national FBLA conference expenses this summer in Atlanta, GA!
Happy Administrative Professionals Day- today and every day-to our two office gals, Shannon and Corinne!! You two truly keep everything together and help make things run smoothly. We appreciate all you do for us, our students, and our school!! 🤍🖤

The senior Entrepreneurship class is hosting a Market Day at the Anamoose-Drake Elementary School gym from 11-1 pm on May 1 and at the Drake-Anamoose High School FACS room on May 2. They are selling cookies, muffins, nachos, pizza (Drake only), Shirley Temples, Roy Rogers, scotcheroos, floats, cake pops, and pop. Please come and support these young leaders!
It's time to throwback to when life was easier and the music was good! Okay, maybe that's a matter of opinion. ☺️The students have been learning about music from the past and are ready to share it with you! It's going to be a rockin' good time!! 🎶 🎵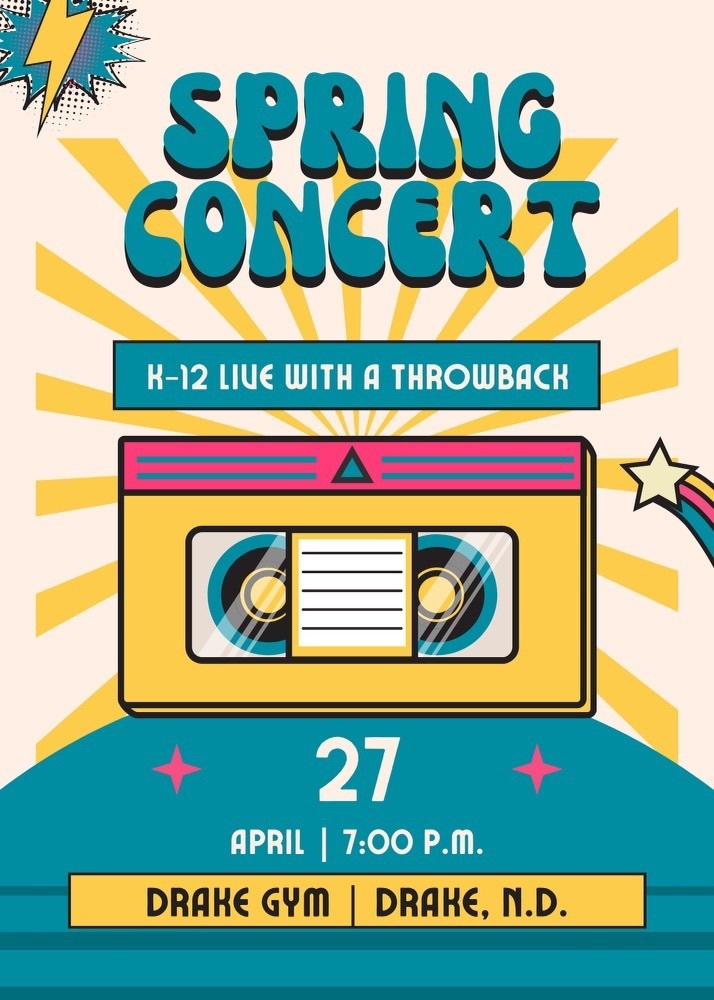 Looking out the window today, it's hard to believe this is the last menu & newsletter for the 2022-2023 school year.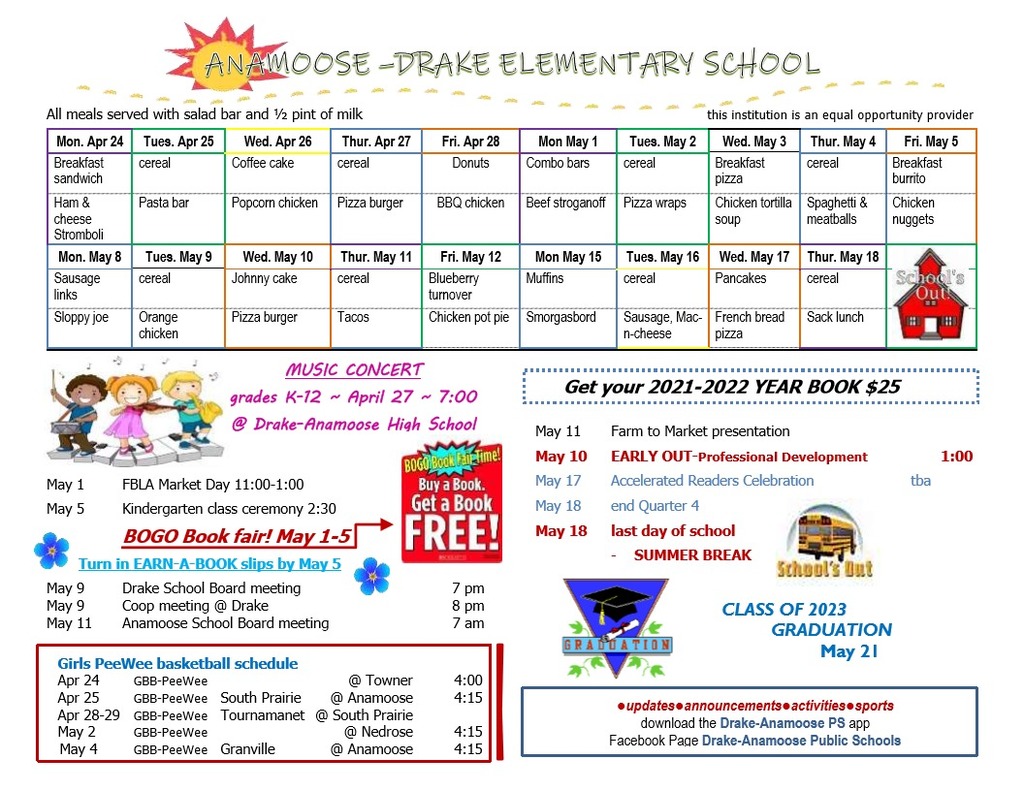 The First Annual Career Fair was a success today! 🎉 Great job to all of the students and Mrs. Uhlich, and a big shout out to the elementary for coming over to support them!! 🎉 Throughout the school year, students have been learning about the 17 career clusters. Today 14 of the clusters were represented through the various aspirations of our students. Check out what some of their future careers might be...🤩

Reminder: Early out Wednesday April 12th, shuttle buses at 12:45pm, route buses at 1:00pm.
Long post alert but worth it! We are so proud of all 28 students that headed to Bismarck on Sunday for the FBLA State Leadership Conference. Their time was cut short thanks to the winter that never ends, but they had a great time, made memories, and found success. Here are the results: The 2023-2024 FBLA State President: Kaidence Hase The 2023-2024 FBLA State Treasurer: Tyler Meckle Middle School Level Annual Chapter Activities- 2nd place Giselle Mayer, Mariah Mack, and Shaylee Hase Business Etiquette- 3rd place Mason Schuh Elevator Speech- 1st place Mariah Mack, 2nd place Shaylee Hase Running an Effective Meeting- 2nd place Mason Schuh, 3rd place Jade Uhlich High School Level American Enterprise Project- 2nd place Zack Volson and Kaidence Hase Intro to Parliamentary Procedure- 10th place Zack Volson Intro to Public Speaking- 3rd place Evelyn Issak Job Interview- 3rd place Kaidence Hase Journalism- 10th place Rachel Held Local Chapter Annual Business Report- 3rd place Rachel Held North Dakota State WHO's Who Award: Kaidence Hase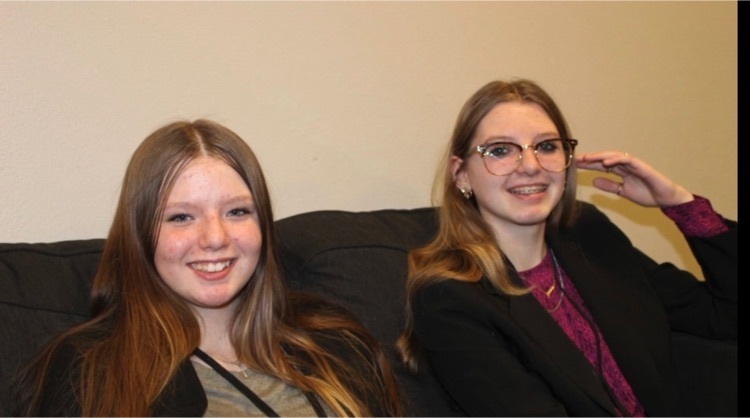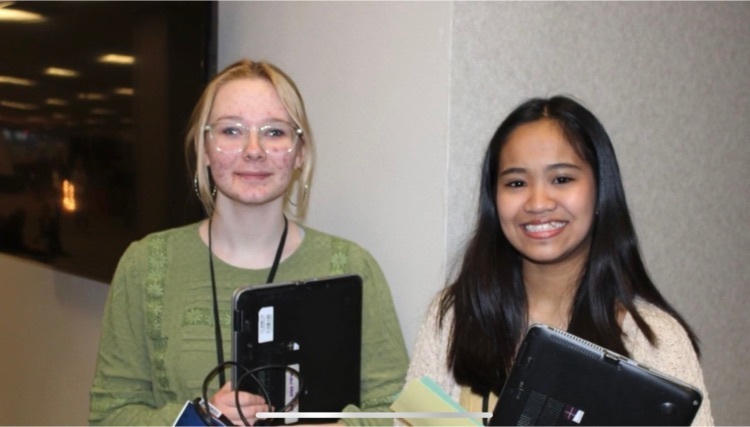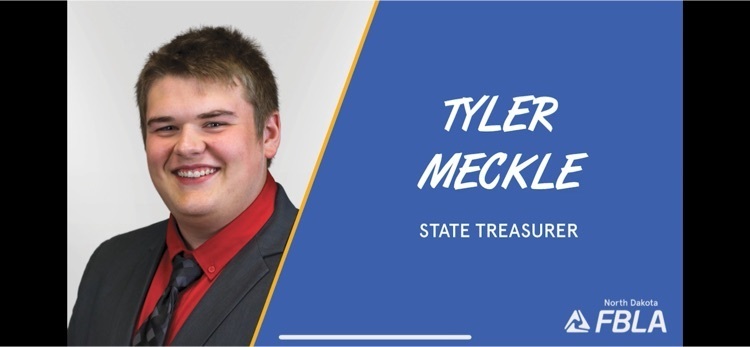 Thursday: School and buses 2 hours late. Buses where possible. No breakfast served. Road conditions will be re-evaluated again in the morning.
Anamoose-Drake Elementary School Kindergarten 2023 registration information .
We are ISO information pertaining to newborn through preschool age children in Anamoose & Drake school disticts.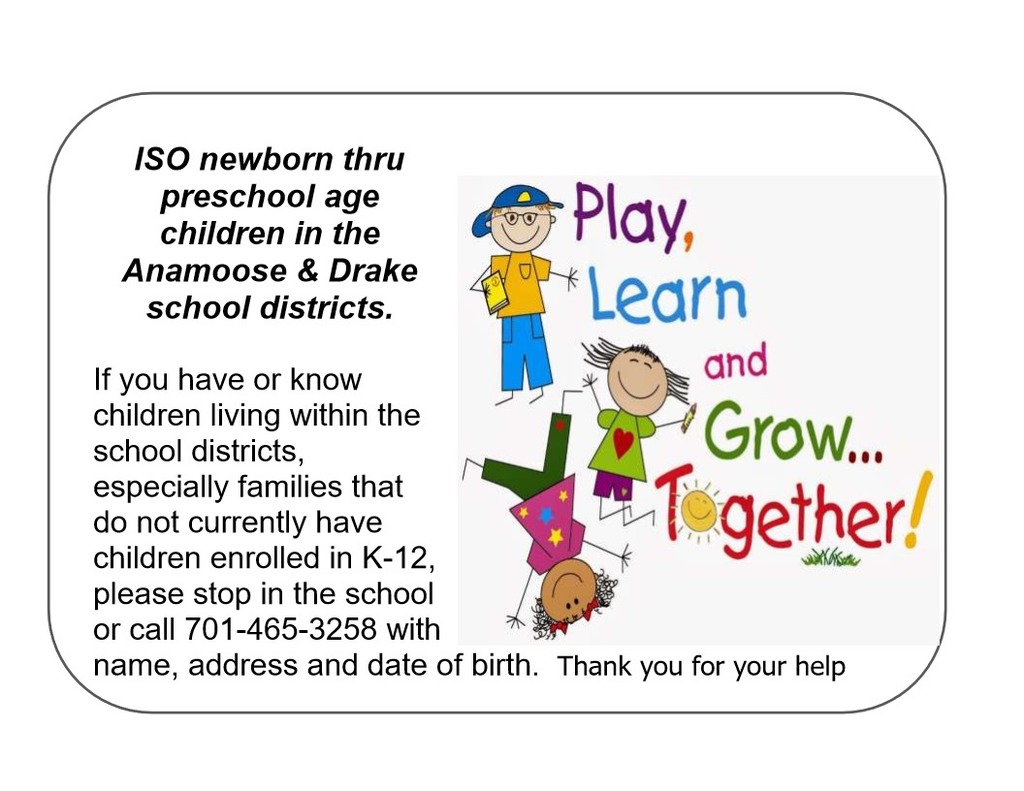 TGU Titans Development Camps Students entering 4th through 7th grade.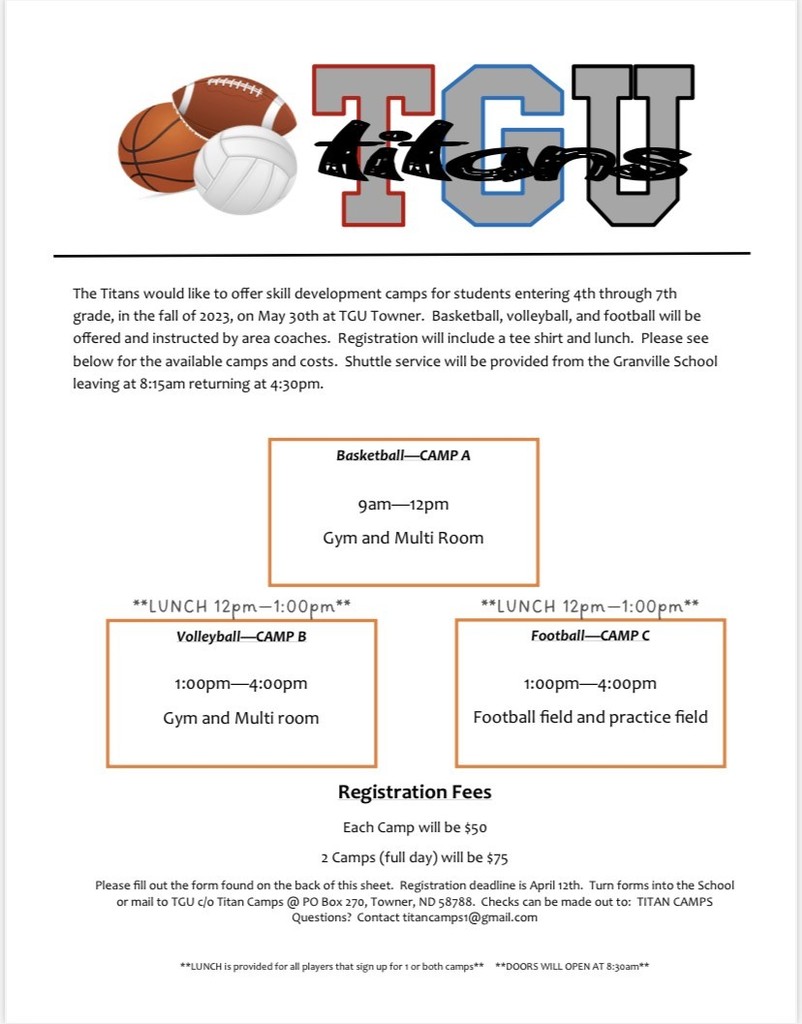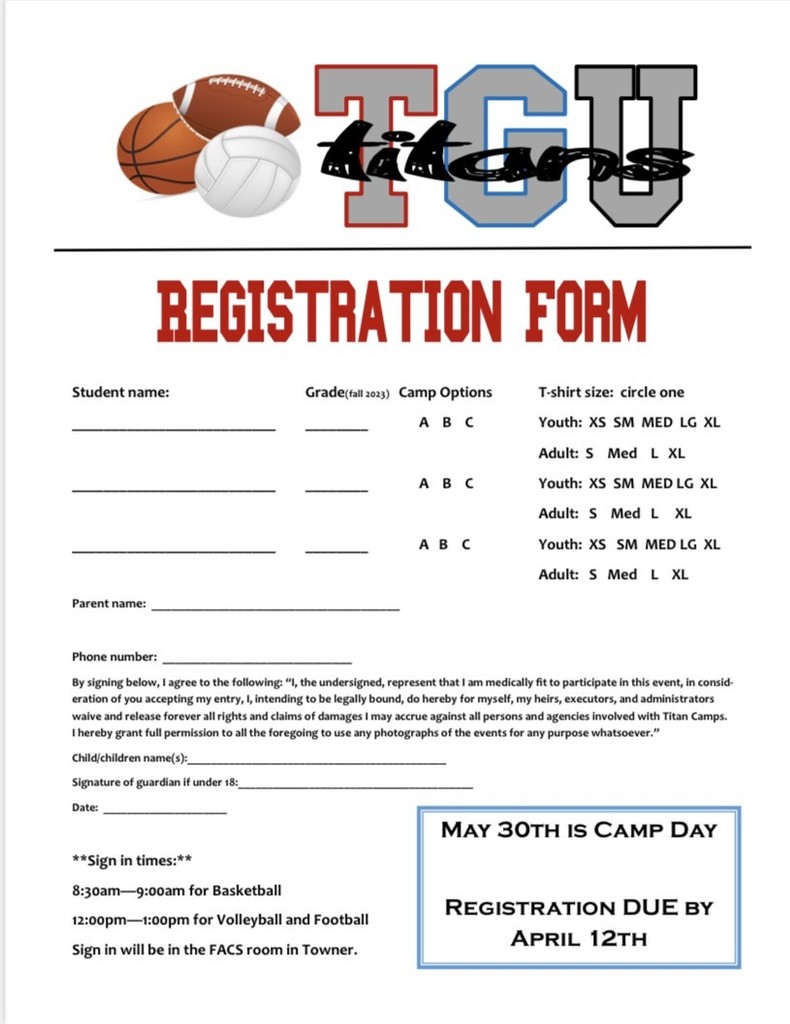 Pre-School screening in Anamoose scheduled for tomorrow (Wednesday, March 22) will be postponed to another date. We will update when the date is set.